For release October, 2005
Black Belt Presentations
On October 2nd during one of our monthly Yudansha clinics, Dan certificates were presented to an extra large group of recipients. For most the Dan tests were back in April, but for some the test was over a year ago - long overdue. In addition to the many Dan rank promotions, were several teaching certifiactions for Jun-Shidoin and Shidoin. Congratulations everyone! Now on to the next level!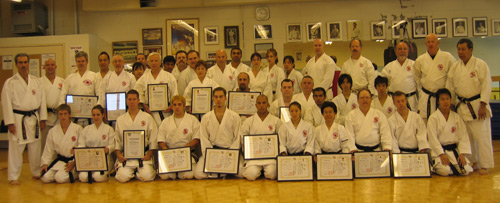 Graduating class of 2005 flanked by Shihan Ferri (far left),
Shihan Bellhouse and Shihan Chong (far right).
Shodan : First degree

Richard Beetham
Steve Madsen
Nick Burke
Alex Mazzolin
Jordan Fenn
Melissa Law
Rebecca Lobo
Fouad Saouda
Byron Chong
Erin Fitzgerald
Erin Stewart
Steve Matthews

Nidan : Second Degree

Mike Saulnier
Lee Lewandowski

Sandan : Third Degree

James Ferri
Martin Sisler
Peter Wiles

Jun Shidoin

Mike Ginn
Alexandra Conrad
Mike Conrad

Shidoin

Ed Docherty
Norm Gillies
For release September, 2005
Andrew Gheorghe wins Silver Medal
Earlier this month Andrew Gheorghe competed in the Pan-American Karate competition in Montevideo Uruguay September 2 to 4. Andrew won silver in the Junior Kumite division. Andrew is a long-time student of Shihan David Chong. Well done, Andrew!
For release August, 2005
New Hamburg Karate-a-Thon a Great Success
Second annual long-weekend Karate Camp in New Hamburg
This past June, the New Hamburg Karate Club hosted its second annual Karate-a-thon fundraiser at the Wilmot Township Arena and Community Centre in support of the Fields of Dreams campaign and the Soke Cup competitors from the Chito-Ryu Association of Ontario. More..
For release March, 2005
Ontario Chito Ryu Sending 3 to Halifax Competition
Burke, Ferri & Georghe competing at NKA, April 7th - 9th.
Three of the finest Karate-ka in Ontario have been selected to compete on the National team at the National Karate Championships next month in Halifax. Although the representation from Ontario Chito Ryu is small relative to past years, the skills of the participants are well recognized and we are proud of their achievements. Representing Chito Ryu will be Nick Burke from ICKF in Whitby, James Ferri of Richmond Hill, and Andrew Gheorghe of Guildwood Chito Kai. Nick Burke will compete in 18-20 years Kumite and has also been selected to join Ontario's elite Men's Team Kumite. James Ferri will compete in Men's 75-80kg Kumite category and has been selected as the adult team captain for Ontario. Andrew Gheorghe will be competing in 16-17 years Heavy Weight and has been selected as both the Junior Team Captain and is fighting on the 16-17 years Junior Team Kumite.
In addition to these competitors, Sensei Norm Gillies and Shihan David Chong will attend as officials.
We wish them all the best.